6 simple things to consider when shopping for door hardware.
By jonnathan.rivas
No longer a question of if homeowners are adding smart home technology to their renovation to-do lists, it's more a matter of how and with which devices you'll choose.
Buying a new door knob is simple enough. Then you get to the store or look online and there are more options than you expected. Or you bring something home only to find out it's not quite right. We're here to reassure you that there's no need to feel overwhelmed. This checklist shows you what to consider when buying door hardware. It won't be long before you're deciding which DIY project to take on next.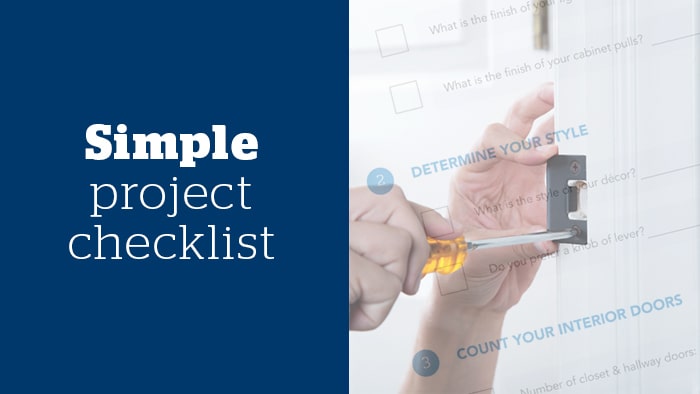 Choose your style
You might not think of door hardware style often, but you do notice when it's scratched, dented, doesn't match the look of the rest of the house or is just plain ugly. Don't be fooled into thinking that a door knob is just a door knob. Look for hardware that matches your personal taste and the architectural style of your home, whether that means contemporary and sleek, traditional and ornate, or somewhere in between.
When considering style, also weigh the pros and cons of door knobs versus levers and how they fit your lifestyle. Do you have a sneaky pet who can operate a lever to let themselves out? Unless it's a service dog, that's probably not a good thing and you want a door knob. Or maybe you do prefer a lever because it's easier to grip with arthritic hands.
Choose a finish … or four
Like style, the finish of your door hardware is largely up to personal taste. Perhaps the biggest consideration here is whether you want all the fixtures in your home to match. We're not just talking about all your levers being Bright Chrome, either. Look at light fixtures, faucets and other plumbing, cabinet pulls and furniture with metallic accents. Fans of minimalism, Scandinavian and, typically, more traditional interior design might lean toward focusing on a single finish.
Mixing metal finishes is also an option, particularly as maximalism gains popularity. It can be easy to go a bit overboard, however, so try to limit it to four or fewer finishes, find some matching elements to keep from looking too chaotic and, when you do mix and match, choose complementing contrasts. Our guide to mixing hardware finishes can help you get it right the first time.
Count how many doors you have
You might be surprised by just how many doors there actually are in your house. You don't want to get home and find out you're short one. Of course, you don't need to replace every single door knob or lever, but keep in mind that doing so can help you maintain a cohesive look throughout the house. At the very least, it can keep a hallway from looking mismatched if you have a bright brass door knob on one door and a satin nickel knob in a different style on another.
When counting your doors, don't forget closets, basement entries, laundry rooms and others you might not use every day. It might help to physically walk through the house and keep a tally.
Decide what functions you need
Now that you know how many new knobs and levers you need, decide what functions you want. For interior door hardware, you have three primary options: Bed & Bath, Hall & Closet and Inactive.
Bed & Bath (Privacy): Choose Bed & Bath hardware for rooms where extra privacy is needed. A push-button lock secures the door from inside the room, while turning the knob or lever from the inside unlocks it. As the name implies, Bed & Bath door hardware is best for bedrooms and bathrooms, but they're also common for home offices, for example.


Hall & Closet (Passage): Choose Hall & Closet hardware for doors where privacy is not needed. The latch will help keep the door closed, but there is no locking function. Hall & Closet knobs and levers are best for any kind of closet – bedroom, entryway, pantry – or even on children's bedroom doors if you don't want them to be able to lock themselves in.


Inactive: Sometimes also known as Non-turning or Dummy, inactive knobs and levers are primarily decorative. They're most often used for the non-functioning side of French doors and other doors that don't need to latch.
Schlage door hardware comes in each of these functions, so regardless of the style and finish you choose, you can also get the desired functions without compromising your look.
Remember your exterior doors
Remember to include exterior doors in your considerations. You might decide that now's the perfect time to upgrade your front door handleset, deadbolt or smart lock. Use the same tips above for choosing its style and finish. Count your exterior doors, too, particularly if you want to update a front and back door. Or a front and garage entry door.
When choosing a lock for an exterior door, you can decide between mechanical or electronic deadbolts. Schlage deadbolts, whether mechanical or smart, are rated Best by the BHMA in Finish, Durability and Security. Knowing that each lock comes with the peace of mind and quality you expect to help protect your home, the main decision is whether a smart lock provides additional levels of convenience that fit your lifestyle. Learn more about Schlage smart locks or use our Get Help Deciding Tool to find the one that's right for your home.
Make sure you have a screwdriver
You might be wondering if you have the necessary tools to install door hardware. Chances are that you do since, with Schlage door hardware, all you need is a screwdriver. We design our hardware, whether for interior or exterior doors, to fit on all standard pre-drilled doors. No need to become a carpenter overnight or hire a handyman for this simple home improvement project. Plus, with our How-To Center, you can find answers to the most common questions, videos and more if you need some extra assistance.
Take a look at all Schlage has to offer, from styles and finishes to smart locks to interactive installation instructions, at Schlage.ca.