6 must-have elements to unlock your foyer's decor potential.
By jonnathan.rivas
Saturday, January 9, 2021
Make sure your foyer is both welcoming and coordinates with the rest of your home by including these six elements.
Your foyer is the first thing to greet you each day and your guests' introduction to your personal style. Make sure it is both welcoming and coordinates with the rest of your home by including these six elements below.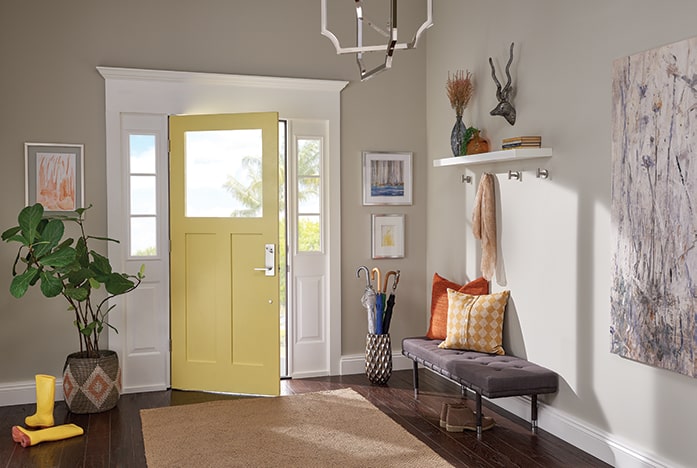 1. Complementing door hardware
If you're still rocking the same door hardware that was installed when you moved in, it may be time to for an upgrade that complements other style elements in your home. Take a look at existing lighting and fixtures, consider the style of your home and choose a style and finish that adds the perfect finishing touch. You'll be pleasantly surprised by how well door hardware completes the look. Try our Style Selector Tool to help you get started.
2. Adequate lighting
There's nothing more welcoming than a vibrant, well-lit space. If your entryway has the tendency to look like a dungeon, consider installing new lighting that brings it to life. You can even opt for smart lighting that illuminates as soon as you unlock your front door with one of our smart locks. It's not just a style boost. It can improve your home's security, too.
3. Organization
It's easy to throw your bags, coat, shoes and everything else you're carrying on the floor or nearest surface as soon as you get home. Tackle the chaos before it starts by adding organization right when you walk in. Install hooks for coats and bags, a shoe tray, and even a decorative crate or basket to catch miscellaneous accessories. A landing strip – a table or slim shelf – is ideal for corralling keys, mail, your phone and other odds and ends, even in small entryways.
6. Personal touch
Whether you hang photos on the wall, place fresh cut flowers on a table or show your creative side with colorful bench cushions, your entryway décor can be an expression of you and your family's personality. Take advantage of this frequently overlooked space that craves your decorative touch.
Ready to get started? Check out these DIY entryway projects to help you complete a space affordably and with your own personal touch.