10 home security lessons to teach your kids now.
By jonnathan.rivas
It's never too early to start teaching your children some safety rules. Here are 10 ways kids can help protect themselves, their home and the rest of the family.
Crime prevention and keeping your home safe is everyone's responsibility, from the tiniest tot to the most veteran members for your family. It's never too early to start teaching your children some safety rules. Get them involved with these 10 ways kids can help protect themselves, their home and the rest of the family.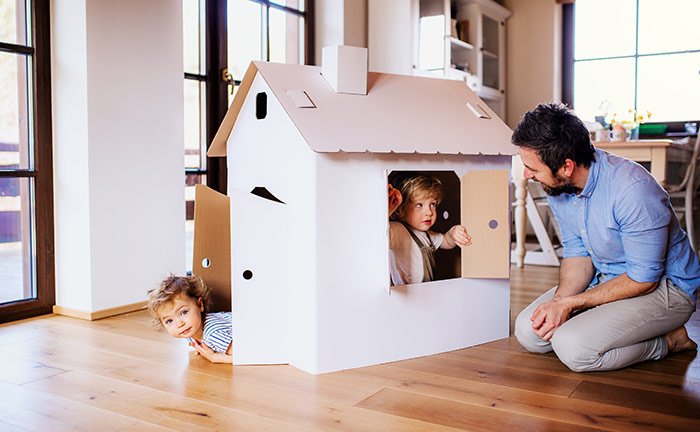 1. Always lock the doors and use alarm systems
Try to get them in the habit of locking the door behind them. Some kids may understand the need to lock up when they leave, but remind them that using the deadbolt even when they're home can help protect them from possible intruders. The same goes for alarm or security systems. Make sure they know how to activate it, can remember the codes and impress upon them the need to use it, just like the lock, when they're home.
2. Use access codes instead of keys
Even responsible kids are kids. They lose things completely or simply forget where they left them. Instead of giving them a house key that they can misplace or forget, give them their own smart lock access code. Make the code simple enough that they'll remember – maybe it's Mom's birthday – but not so obvious that someone can guess it. Finally, teach them not to share their code with anyone, even their best friend.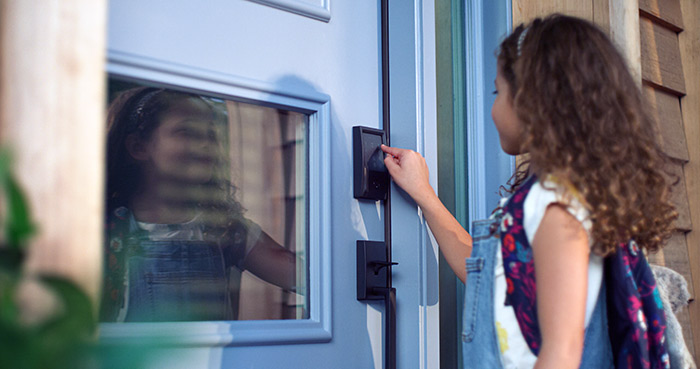 3. Don't answer the door when home alone
If your kids are old enough to stay home alone, even if it's just for a few hours after school, give them the tools to stay safe until you return. Tell them not to answer the door when they're home alone, especially if they aren't expecting anyone. They shouldn't let anyone in, even if they claim to be a repair person, someone asking to use the bathroom or needing help to find a dog.

That being said, you may want them to be able to check who's at the door before they can make that decision. If Uncle Ed is coming over to hang out with them for a bit until you get home, they need to know if it's him or a stranger. A video doorbell paired with a device such as a smart phone or monitor can help. Some of those kiddos just might be too short to see through the peephole.
4. Keep personal information personal
You want your kids to be friendly and trusting … to a certain extent. Teach them not to answer personal questions about the house and their family's whereabouts, especially when talking to someone they don't know well. Saying whether you have an alarm system and how long you'll be on vacation could be valuable information to someone planning a break-in.
5. Put tempting toys away
Just like leaving your garden shed unlocked or your grill sitting out can be a temptation to thieves, bikes laying on the lawn are asking to be swiped. Teach your kids to put their belongings away when they're done playing. Even if they're just running inside for a "quick drink," have them park their bicycle in the garage or out of sight.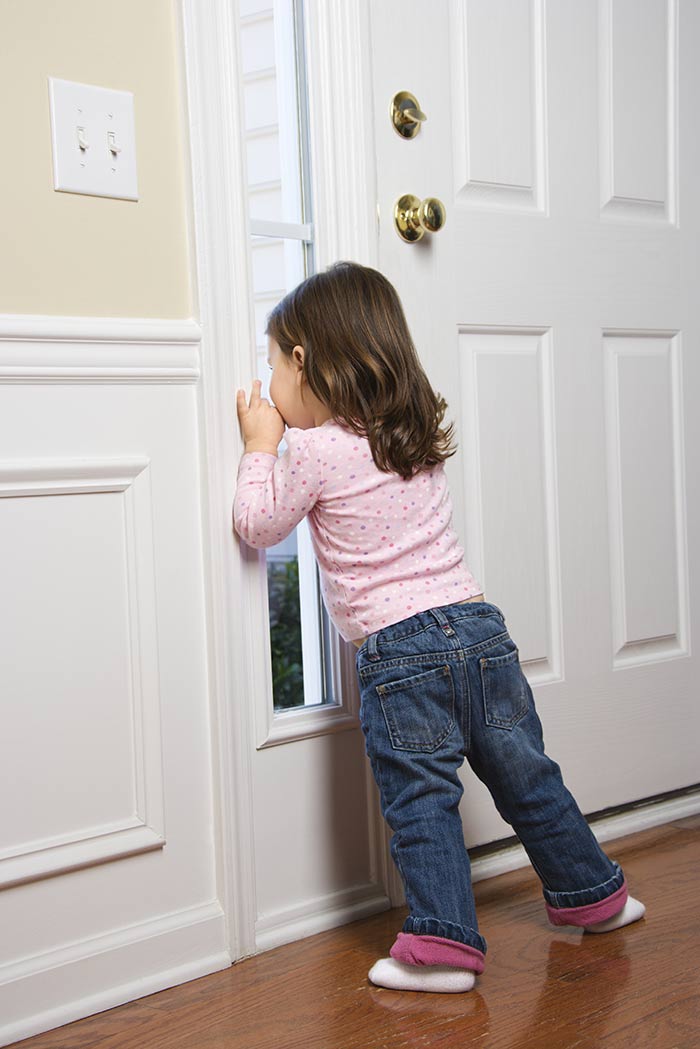 6. Be aware
A good step for staying safe, whether at home, school or the park, is being aware of your surroundings. Teach kids to be observant. If they notice someone is following them on the way home from school or hanging around the front door, tell them keep moving. Go to a trusted neighbor's or a friend's house instead of entering an empty home alone.
7. Use a family command center
Usually when we talk about family command centers, it's with the goal of getting more organized. You can use this one-stop shop to improve your family's security, too. With an updated calendar, your kids will know who is supposed to be where and when. If there's a knock on the door and the guest is claiming to be the TV repairman, they can check the schedule to see if that person is expected. Similarly, if you usually get home by 5:00 but have to stop at the store tonight, a note saying you'll be a bit late can help keep them from worrying.

Clearly display emergency contact information in your command center, too. This could be phone numbers for the police and a neighbor, or alternative contact information for you, including your cell phone, desk phone at the office and your company's receptionist.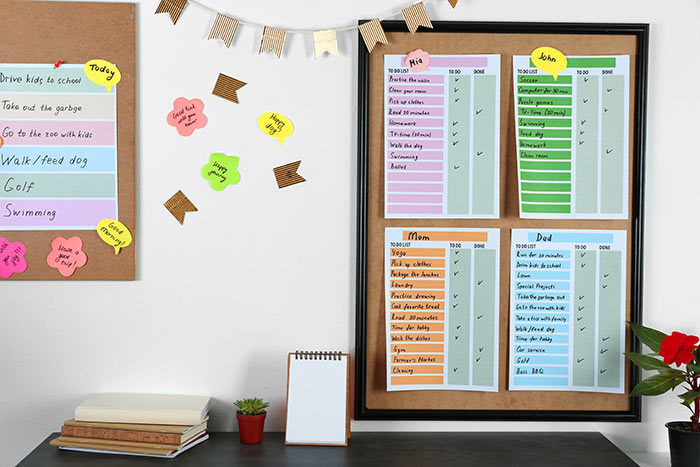 8. Make age appropriate accommodations
Granting older kids more independence is part of helping them grow up to be responsible young adults. Teen safety could mean teaching them about dating violence. How can they protect themselves when a crush or significant other comes over to the house? Set clear rules about whether this even allowed if you're not home. Make sure they aren't sharing their smart lock codes with their visitors.

If you have concerns about when the codes are being used – did your teen make curfew, was the code entered when they should have been in school – track it with the app's history log. The Schlage® Home app when paired with the Schlage Encode™ Smart WiFi Deadbolt or Schlage Sense® Smart Deadbolt, for example, will provide the last 100 entries and can even send you a push notification when the code is used.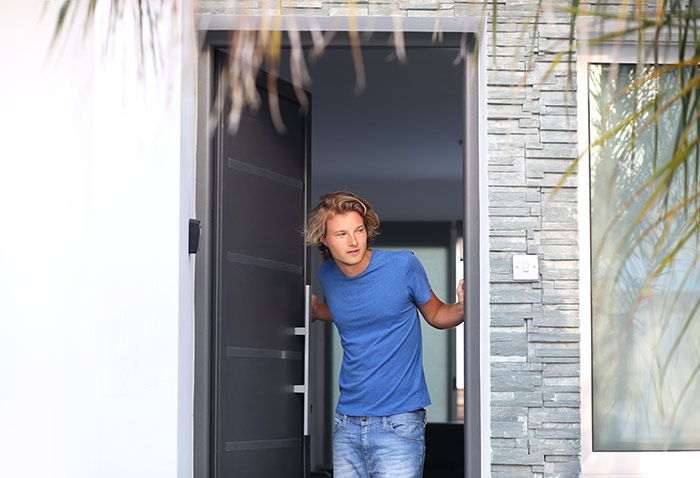 9. Talk to them about what to do in an emergency
Even when we take all the best precautions, unfortunate events can still happen. When they do, make sure your child knows how to respond. Who should they call? How, when and why should they dial 911? When do they go in the house and when should they evacuate to a safe place? Set up a family rendezvous point so that if you get separated for any reason, you know where to safely meet and reunite. It can be helpful to practice these scenarios so they're more comfortable with the steps, even in high-stress situations.
10. Reward them for following the safety rules
Regardless of your child's age, a reward system can help reinforce their good behavior. Smaller kiddos might respond well to a sticker chart. For example, enough gold star stickers when they remember to lock the door each day could earn them an ice cream at the end of a perfect week. Remembering to check in with you when they get home from school could earn them extra screen time on the weekend. Making curfew could earn them a bonus on their allowance.
Since 1984, the National Crime Prevention Council has declared October as
Crime Prevention Month
. Since then, they've worked with a variety of organizations to improve personal safety and crime prevention in our neighborhoods. Schlage is proud to do its part in giving you greater peace of mind and the know-how to protect what matters most. Find more
home security tips at our blog
.